The Vault Wine Storage….a merging of two passions…wine and real estate.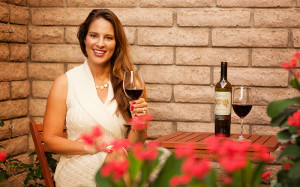 Deborah (Hunkeler) Fortini, MBA, has spent the last ten years as a Commercial Real Estate broker with Cushman and Wakefield in San Diego. Her specialty is in office and industrial building sales. In 2008, the commercial real estate market spiraled downward, and Deborah started contemplating different adaptive reuse ideas for vacant office and industrial buildings. While visiting Phoenix in 2010 and contemplating her eventual move to Arizona, she noticed there was no offsite facility available that could adequately store her wine. The only options for wine storage in Phoenix were a few "self storage" facilities that had some temperature controlled space available for rent within their large general storage area.
As both an avid wine lover and a veteran commercial real estate broker, she saw a potential opportunity and an idea was born. In 2010, she began analyzing the Phoenix market extensively and its capacity to handle a 100% dedicated wine storage facility. Fortini envisioned a concept that would not only offer a secure, climate controlled environment, but one that also offered concierge services, catering exclusively to wine enthusiasts and serious collectors. Meetings with a state liquor license attorney opened even more doors, as she was approved to accept deliveries and build a tasting room. In 2012, she closed escrow on a commercial property specifically to be used for wine storage. It was important to her to purchase the right building, as most existing structures did not allow for a flexible and efficient layout.
While in escrow in 2012, she met with a couple of general contractors in Phoenix to share her business idea and discuss the use and optimal layout. Not one of them had heard of a 100% dedicated wine storage facility. Deeply concerned about the harsh and often unpredictable climate in Phoenix, Fortini knew it was critical that the specifications had to be precise and absolutely no errors could be made in the build out or development. Due to the lack of similar project experience from local contractors, she hired a consultant in California who had successfully built three commercial wine storage facilities.
Phoenix wine lovers are sensitive to the extreme weather and how it can affect their wines. Deborah knew her clients would feel confident that their investment was safe and secure in a structure purchased and designed specifically for wine storage. The seasoned consultants & contractors meticulously installed progressive new refrigeration systems and purchased high-tech equipment specifically built for wine storage. After almost three years of due diligence, the completed facility now holds the tightest temperature and humidity parameters possible while offering a flexible and efficient layout.
Confident the business would be not only something special to the area but also bring the wine community together, she opened The Vault Wine Storage in October of 2013. Her dream has become a reality and she loves spending her days working at the facility and meeting new wine enthusiasts each day.
A true professional, she prides herself on her personalized customer service, business ethics, and integrity.
Deborah grew up in Ohio and attended Ohio State University, graduating in 1994 with a BS in Logistics as well as Production and Operations Management. While working at General Mills in Cincinnati, Ohio as a Production Manager, Deborah then completed her MBA, graduating from Xavier, Summa Cum Laude in 1997. She then moved to San Diego and for the last 10 years worked for Cushman and Wakefield as a Commercial Real Estate Broker selling office and industrial buildings. While with Cushman & Wakefield, her first year she succeeded in becoming San Diego Cushman & Wakefield's first women "Rookie of the Year" and continually made the C&W Top Performers list. In 2006, she was bestowed the prestigious CCIM designation, which of the 125,000 commercial real estate brokers, only 7,000 currently hold. In 2012 she moved to Phoenix to open The Vault Wine Storage.